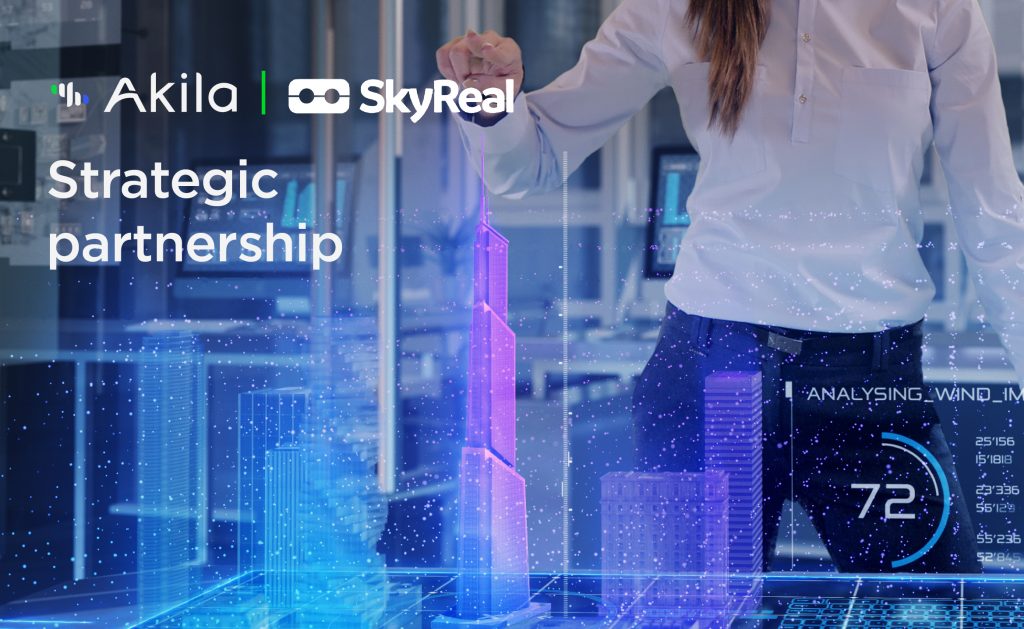 PARIS, France — Akila, a real-estate data and management platform that uses digital twin and AI technologies to empower data-driven decision-making and ESG for large multinational portfolios, has initiated a strategic partnership with SkyReal, a leading innovator that combines CAD (computer-aided design) with Virtual Reality (VR) technologies. Integrating SkyReal's VR solution into the Akila platform will allow clients to interact in real time in a fully simulated 3D space with a vastly expanded scope for collaboration in facility design, operation and training. The partnership will inspire a new level of connectivity in the metaverse, cutting organizational overheads, reducing the need for costly prototyping and optimizing the facility design and operation process.
Akila and SkyReal's partnership will allow for better information sharing between stakeholders at all levels especially in greenfield projects – from the design stage all the way through to the building phase, maintenance and the entire lifecycle of the site. By integrating previously siloed information and allowing immersive simulations and modeling, Akila and SkyReal aim to democratize Industry 4.0 and realize advanced connectivity and interoperability. Making powerful VR tools accessible to stakeholders who might traditionally have less input (for example, end users) will ensure that projects take everyone into account, reduce costly errors and improve overall utility. From designers to contractors, corporate leadership and end users, all parties will be empowered to engage meaningfully in the development and optimization of their built assets. Akila is currently deploying SkyReal's VR technology in the Akila Lab and NXpark projects.
The cooperation will advance three core functions:
Product Development: A collaborative design review solution that streamlines the design process. Offers tools that allow parties to design in VR and save back any modifications back to CAD, navigate multiple assets and sites, manage data and issue reports and tickets. This reduces conception time, speeds up end-customer decision making and helps anticipate errors and other costly mistakes.
Digital Building: Allows users to simulate spaces in use, validating accessibility and ergonomic factors. A wealth of highly precise functionalities including animation importation, turn-key ergonomic tools, the insertion of objects and collision and gravity management. This can anticipate costly production issues, improve operator comfort at work and reduce production time.
Facility Training: Training without physical prototypes. Allows for the training of operators in a low-cost, immersive environment to reduce risk and heighten skills in crucial actions. This enables training to progress at four times the rate of traditional methods and operators report being three times more confident after training.
Akila Chief Innovation Officer and Co-founder Philippe Obry stated: "Partnering with SkyReal is a very exciting development for us. When integrated into the Akila platform, this immersive technology has the potential to radically reshape the construction and building sectors. As the construction industry adapts to a more data-driven and collaborative model, the advances made by this partnership will be vital. Moving forward, we hope to be able to integrate SkyReal's advanced VR and AI tools into more projects and roll out access across the many sites we currently cover with the Akila platform."
SkyReal's founder & CEO Hugo FALGARONE stated: "Our vision is to accelerate the construction of the world of tomorrow with immersive visualization solutions enabling more efficiency and more human-centered design. With Akila, SkyReal confirms its business values to the building sector and opens the way to construction 4.0. As a software editor, this partnership opens new perspectives on the Asian market to develop the use of immersive technologies."
About Akila: Akila is an Asia-based digital twin platform harnessing real-time data and AI to streamline ESG reporting and optimize the performance, sustainability and human-centricity of buildings and cities. Backed by strategic partnerships with Microsoft, Dassault Systèmes and Aden Group, Akila currently has a growing team of 80+ members and 5.7M square meters managed across 82 sites of deployment. Akila was recognized in 2022 by the World Economic Forum as a Technology Pioneer.
About SkyReal: Founded in 2017 by Hugo Falgarone, SkyReal is a software editor company expert in immersive and visualization technologies. SkyReal is a technological spin-off and benefits from more than 10 years of experience in VR applied to industrial issues. Its team is made up of engineers and VR native generation.  Visit website: www.sky-real.com