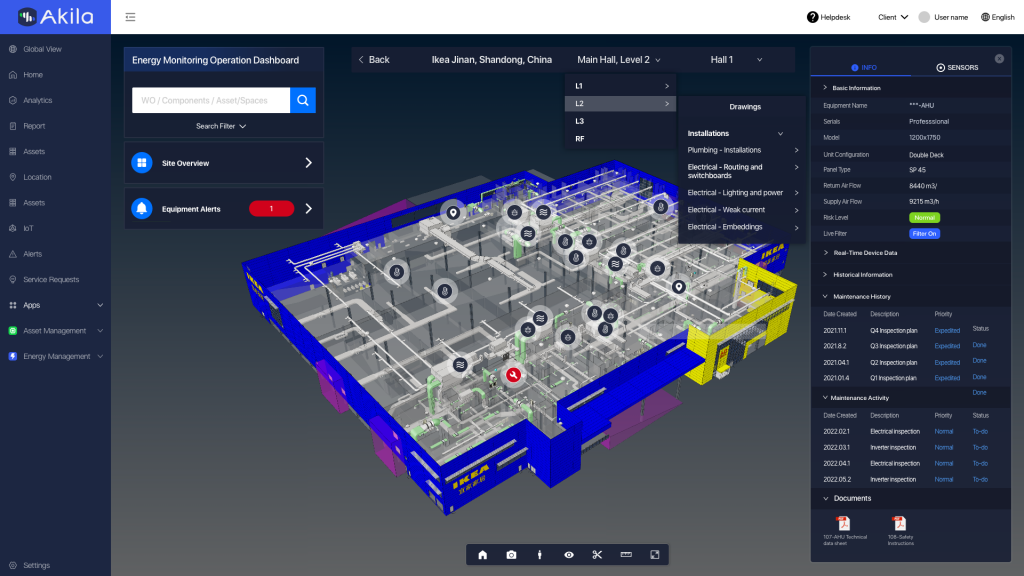 SHANGHAI, July 5th, 2022 — Akila, a real-estate data and management platform that uses digital twin and AI technologies to empower data-driven decision-making and ESG improvements for large and multinational portfolios, has signed a collaboration agreement with IKEA China. With a successful pilot of Akila already completed in Jinan, Akila will now deploy its digital twin solutions at IKEA's 37 locations across mainland China, where it will deliver a projected carbon reduction of more than 10 million kilograms over 1.4 million sqm of IKEA property. This will dramatically increase the level of digitalization at IKEA's existing China facilities and will also include digitalization from the design and construction phase for greenfield sites.
Building a path towards net-zero carbon with IKEA China
With Akila implemented nationwide, IKEA will progress towards its sustainability commitments on an accelerated timeline. IKEA will benefit from full data transparency and benchmarking analytics at the 37 participating locations, allowing for comprehensive, real-time tracking of site performance, costs and carbon emissions. IKEA will also be empowered to develop more detailed and actionable roadmaps for sustainability and ESG through Akila's AI-based predictive capacities, which allow for advanced simulation of risk and environmental impact based on on-site data.
Stephan Deville, President of IKEA's Inkga Group Real Estate China entity commented: "As a large portfolio holder in China, IKEA is keenly aware of its responsibility to build and operate sites with maximum sustainability, as well as the challenges that come with such commitments. Working with Akila gives us an unparalleled opportunity for optimization of our construction and building operations, based on the data insights Akila generates across the building lifecycle and its harnessing of AI to simulate and predict future performance."
Akila Chief Innovation Officer and Co-founder Philipe Obry stated: "We are thrilled to engage in this joint project with IKEA and to leverage the Akila platform so that IKEA leadership gain a far greater degree of control and transparency over their portfolio data. Akila is committed to deepening and accelerating IKEA's ESG goals and net-zero commitments, beginning with energy optimization, but with full capability to extend into other realms such as asset maintenance and environmental services."
About Akila
Akila is an Asia-based digital twin platform harnessing real-time data and AI to streamline ESG reporting and optimize the performance, sustainability and human-centricity of buildings and cities. Backed by strategic partnerships with Microsoft, Dassault Systèmes and Aden Group, Akila currently has a growing team of 80+ members and 3.5M square meters managed across 60 sites of deployment. Akila was recognized in 2022 by the World Economic Forum as a Technology Pioneer.