Jul 09, 2022

Digital innovators will advance sustainable, ESG-oriented construction and building operations
Shanghai, 15 July 2022 – Akila, an ESG-first virtual twin platform for the built environment recently selected as a member of the World Economic Forum's 2022 Technology Pioneers cohort, and Dassault Systèmes, a science and technology company providing leading virtual twin solutions, announce a two-year fruitful strategic cooperation. The two companies are closely collaborating on projects accelerating the digitalization and decarbonization of the construction and building industries. Current projects include emblematic clients like Schlumberger and IKEA. The Akila digital platform leverages the virtual twin created by Dassault Systèmes' 3DEXPERIENCE platform on the cloud, with a common goal of delivering the end-to-end optimization of large and multinational portfolios across the full asset lifecycle from design to operations and ESG reporting.
This partnership will enable Akila to transform the management of the built environment through two key pillars of digitalization:
Digital thread: Dassault Systèmes' 3DEXPERIENCE platform on the cloud will enable Akila to create and maintain a common data environment based on a virtual operations twin organized by system for each portfolio site and related assets. This ensures that a single source of truth can be preserved for projects from design to construction and commissioning, after which the Akila integration will make sure that this digital thread is maintained through operations with accurate data inputs and outputs.
Simulation: Dassault Systèmes' 3DEXPERIENCE platform on the cloud will enable advanced AI-based simulation of a range of scenarios for buildings and their operational assets to optimize a facility's overall performance for human comfort and thermal efficiency. This allows portfolio managers to see into the future in ways that facilitate more sustainable and low-carbon building design for greenfield projects. In the operational phase, predictive maintenance targets issues before they impact operations.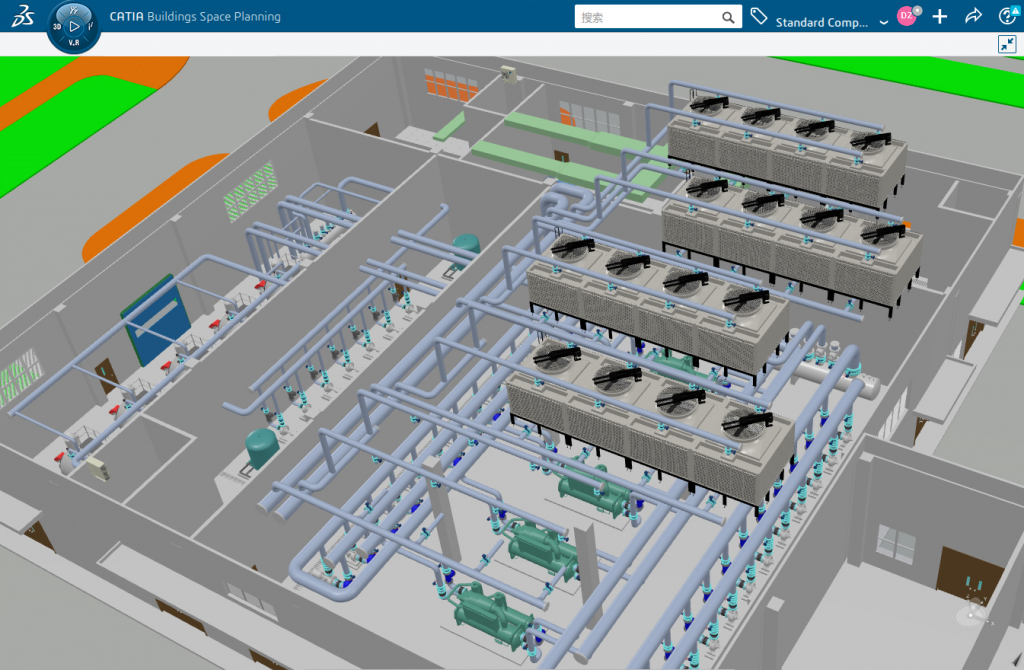 Akila and Dassault Systèmes will put a special focus on two areas of collaboration:
Akila positions sustainability at the core of its digitalization business. Together with Dassault Systèmes, it will explore holistic environmental approaches to sustainability assessment, using cloud-based virtual twins on the 3DEXPERIENCE platform that digitally connect the facility operations virtual twin and lifecycle assessment. This partnership will seek to ensure that the two companies can reinvent a fully sustainability-driven building design, assembly and operation process.
Implementing digital solutions for indoor air quality and human comfort measurement in the building industry, and furthering optimization strategy in these areas. Akila will work with Dassault Systèmes to develop best practices in indoor air simulation to evaluate buildings based on indoor environmental indices.
Akila Chief Innovation Officer and Co-founder Philippe Obry stated, "Dassault Systèmes is truly a pioneer of virtual twin technology.  The 3DEXPERIENCE platform provides Akila with the capability of transforming the way we design, build and optimize portfolios for sustainability in a manner similar to what we have seen Dassault Systèmes achieve by enabling digital transformation in 12 industries."
Remi Dornier, Vice President, Architecture, Engineering & Construction industry, Dassault Systèmes said: "Whereas construction lasts 18 months, facility operations last 50 – 70 years. Sustainability, starting with energy performance, is the number one challenge of the construction industry that must be addressed in the complete value chain. Akila's breakthroughs are a great showcase of virtual twin adoption in the built environment area.  We believe the collaboration of Akila and Dassault Systèmes will be quite valuable to the built environment as well as to the whole industry moving toward sustainable development."
About Dassault Systèmes:
Dassault Systèmes, the 3DEXPERIENCE Company, is a catalyst for human progress. We provide businesses and people with collaborative 3D virtual environments to imagine sustainable innovations. By creating virtual twin experiences of the real world with our 3DEXPERIENCE platform and applications, our customers push the boundaries of innovation, learning and production to achieve a more sustainable world for patients, citizens, and consumers. Dassault Systèmes brings value to more than 300,000 customers of all sizes, in all industries, in more than 140 countries.  For more information, visit www.3ds.com
About Akila
Akila is an Asia-based virtual twin platform harnessing real-time data and AI to streamline ESG reporting and optimize the performance, sustainability and human-centricity of buildings and cities. Backed by strategic partnerships with Microsoft, Dassault Systèmes and Aden Group, Akila was recognized in 2022 by the World Economic Forum as a Technology Pioneer. Currently, Akila is deployed over 3.5M square meters of real estate.