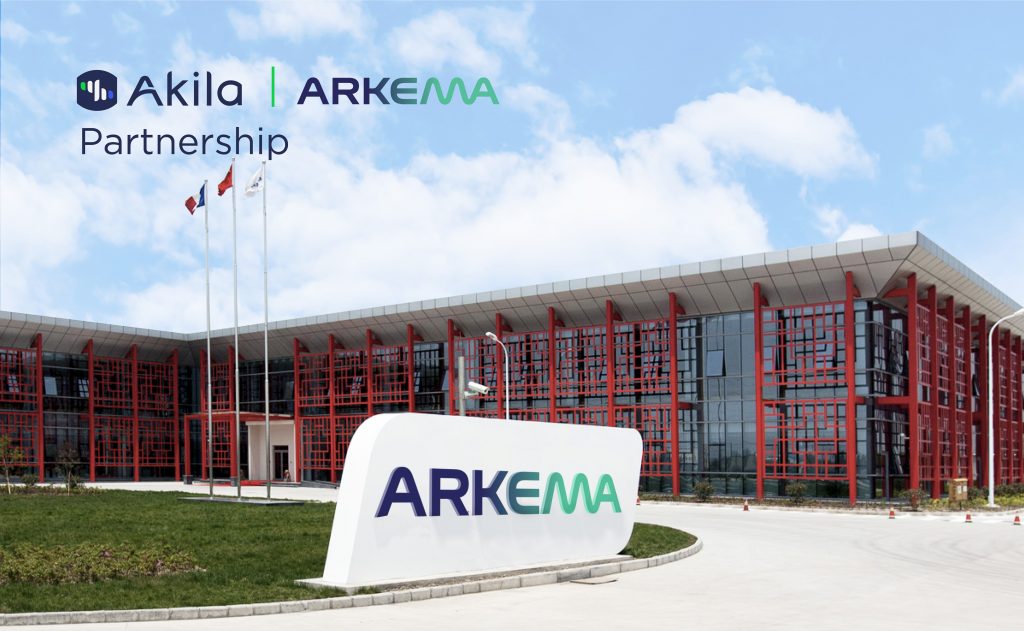 Shanghai, China — Arkema, a global leader in Specialty Materials, has initiated its partnership with Akila, a real-estate data and management platform that uses digital twin and AI technologies to empower data-driven decision-making for large and multinational portfolios. Akila has been selected to help implement Arkema's decarbonization strategy and 'Arkema Energy' power efficiency program in China. The first implementation of Akila will be Arkema's R&D center located in Changshu, China, where Akila's Asset and Energy modules will be used to link and optimize previously unconnected building systems and data at the R&D facility.
In the chemical industry, Arkema has shown itself to be among the most forward-looking groups in terms of social responsibility, ranked third place for the chemicals sector in the Dow Jones Sustainability World Index—and aiming to reduce its scope 1 and 2 greenhouse gas (GHG) emissions and its scope 3 emissions by 46% by 2030 relative to 2019, in line with its new commitment to a 1.5°C SBT trajectory. With the deployment of the Akila platform, Arkema China will be empowered to take this commitment to decarbonization and efficiency even further. Targeted energy, financial and GHG improvements will be tracked in real-time and made transparent for company stakeholders through Akila's customizable dashboards.
Thierry MARTIN, General Manager of Arkema (China) Investment Changshu Branch stated: "With increasing pressures on resources and energy, a growing population, climate change, and the environmental crisis, we face many challenges on a planetary scale in the next decade. Our responsibility is to use our expertise and innovation to contribute to a more sustainable world. That's why we're excited to begin our work with a company that prioritizes ESG-focused digital innovation and human-centricity like Akila."
Akila Chief Innovation Officer and Co-founder Philippe Obry stated: "Beginning this partnership with Arkema China is an exciting opportunity for us. Their commitment to ESG is long-standing and their results are already impressive. As the chemical industry goes through its sustainability transformation, strong partnerships that prioritize ESG are needed to evolve the production process and become truly green. As we move forward we hope to enable Arkema to take their sustainability gains to the next level, and work with them to reduce energy use and improve asset management."
About Akila
Akila is an Asia-based digital twin platform harnessing real-time data and AI to streamline ESG reporting and optimize the performance, sustainability and human-centricity of buildings and cities. Backed by strategic partnerships with Microsoft, Dassault Systèmes and Aden Group, Akila currently has a growing team of 80+ members and 3.5M square meters managed across 60 sites of deployment. Akila was recognized in 2022 by the World Economic Forum as a Technology Pioneer.
About Arkema
Building on its unique set of expertise in materials science, Arkema offers a portfolio of first-class technologies to address the ever-growing demand for new and sustainable materials. With the ambition to become in 2024 a pure player in Specialty Materials, the Group is structured into three complementary, resilient and highly innovative segments dedicated to Specialty Materials -Adhesive Solutions, Advanced Materials, and Coating Solutions-accounting for some 85.5% of Group sales in 2021, and a well-positioned and competitive Intermediates segment. Arkema offers cutting-edge technological solutions to meet the challenges of, among other things, new energies, access to water, recycling, urbanization and mobility, and fosters a permanent dialogue with all its stakeholders. The Group reported sales of around €9.5 billion in 2021 and operates in some 55 countries with 20,200 employees worldwide. Learn more at www.arkema.com