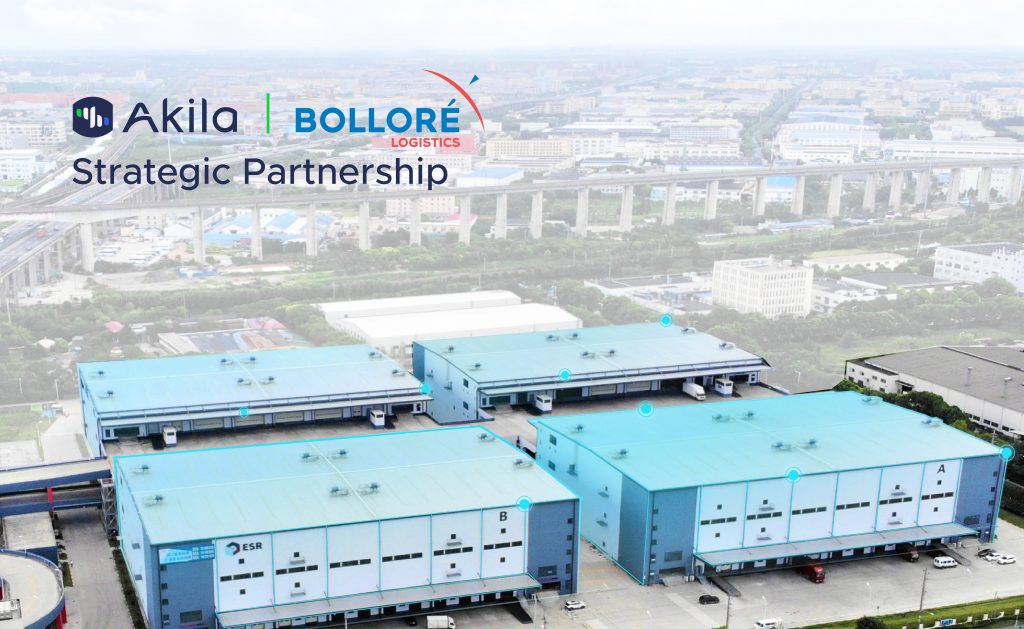 Shanghai, China — Bolloré Logistics China has signed a three-year agreement with start-up Akila to monitor and optimize the energy consumption of its 18,000 m2 warehouse in Songjiang (Shanghai). The agreement is based on providing a digital solution that uses artificial intelligence to improve the company's results in terms of environmental, social and governance (ESG) issues.
In addition to optimizing its energy consumption, the platform will improve air quality throughout the site by accurately monitoring HVAC (heating, ventilation and air-conditioning) installations. As part of its "Powering Sustainable Logistics" CSR program, Bolloré Logistics has set itself the target of cutting its Scope 1 and 2 CO2 emissions by 43% by 2027[1]. By partnering with Akila, Bolloré Logistics Greater China will contribute to the success of this stated objective.
"We look forward to implementing this solution with Akila, as it will enable us to monitor our environmental impact closely and take concrete actions to reduce it further. As a global player in the supply chain, we want to set an example for the rest of the industry and accelerate the adoption of sustainable solutions to decarbonize transport operations," stated Frédéric Marcerou, CEO of Bolloré Logistics Greater China.
Philippe Obry, Chief Innovation Officer and Co-founder of Akila, added, "Akila and Bolloré Logistics are fellow travelers pursuing the same goal in terms of sustainability for the logistics sector. The sector needs to adapt to a more data-driven model; this is why we are committed to the success of this partnership. Moving forward, we hope to be able to put more solutions in place with Bolloré Logistics at their other sites throughout China." 
About Bolloré Logistics
Bolloré Logistics is a major international supply chain operator and ranks among the world's top ten transport and logistics groups with an integrated network of 603 agencies in 111 countries. Placing customers at the heart of its strategy, Bolloré Logistics is committed to designing innovative, robust and agile solutions. Through the reliable management of the entire supply chain, the company has developed a high level of resilience, enabling it to control risks by securing transport plans through alternative options and to lead a continuous improvement policy over the long term while acting as an ethical and responsible player.
Bolloré Logistics opened its offices in China in 1994. The company now operates in 19 cities and has more than 30 sites across the country. It provides innovative, robust and agile transport solutions suitable for large industries such as luxury retail, perfumes & cosmetics, pharmaceuticals, high-tech products, aerospace and automotive.
Learn more: www.bollore-logistics.com
About Akila
Akila is an Asia-based start-up that designed and developed a digital platform to harness real-time data using artificial intelligence to streamline ESG reporting. It thus optimizes the performance, sustainability and human-centricity of buildings and cities. Backed by strategic partnerships with Microsoft, Dassault Systèmes and Aden Group, Akila currently has a growing team of 80+ members and 5.7 million square meters managed across 80+ sites. Akila was recognized in 2022 by the World Economic Forum as a Technology Pioneer.
Press contacts:
Cindy Patan, Media Relations Manager – Bolloré Transport & Logistics
Tel.: +33 1 46 96 49 75 / +33 7 72 40 49 75 cindy.patan@bollore.com
Yee Wen Wong, Regional Communications Manager, Asia Pacific – Bolloré Logistics
T +65 9758 6639 – yee-wen.wong@bollore.com
Wenting Jiang, Marketing Communication Manager, Greater China – Bolloré Logistics
T +86 21 / (3395) 0617 137 6444 – wenting.jiang@bollore.com
Keyi Li, Product Marketing Manager – Akila
T (+86) 158 5275 8888 – keyi.li@akila3d.com
[1] This objective is based on the company's results in 2017.