May 09, 2022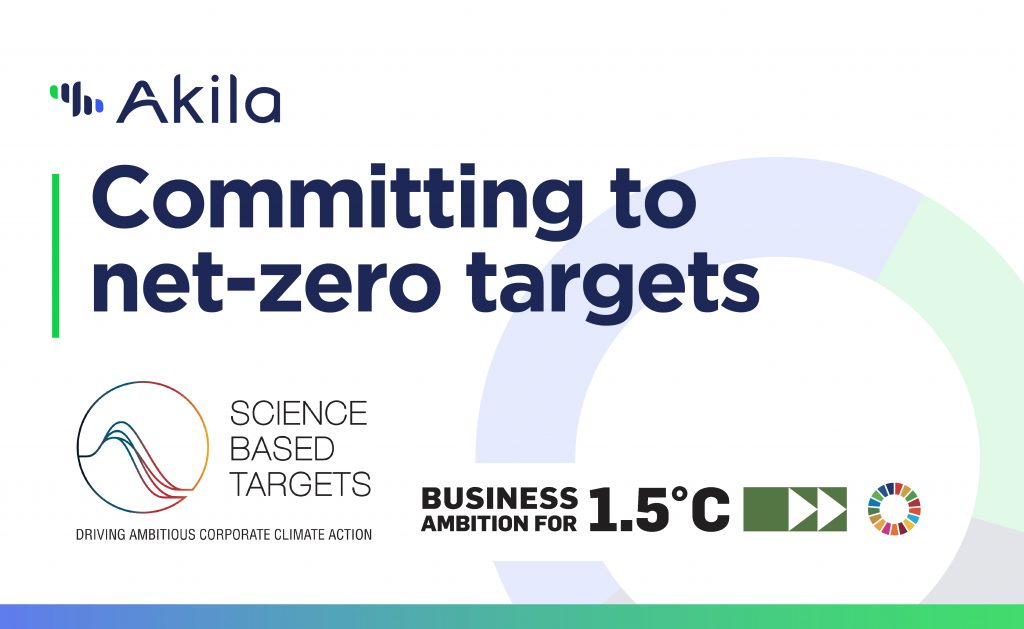 Akila, as part of the Business Ambition for 1.5°C group, is excited to support emissions reductions in line with the Science Based Targets initiative's (SBTi) Net-Zero Standard. Akila is dedicated to helping companies navigate the road to net-zero with science-based targets.
SBTi helps construct greenhouse gas (GHG) reduction standards specifically, which is separate from ESG, a widely accepted investment metric. This initiative began as a collaboration between the Carbon Disclosure Project, the UN Global Compact, the World Resources Institute, and the World Wide Fund for Nature, and one of the We Mean Business Coalition commitments. It defines and promotes best practices in science-based target-setting, and offers resources and guidance to promote the adoption of said targets and practices, and also independently assesses and approves companies' targets.
Support for this initiative stems naturally from Akila's values. Taking on this mantle of leadership is part of Akila's mission as a service provider and ESG-first digital innovator. The world finds itself at a pivotal moment. Science-based standards are more essential than ever—reports from the Intergovernmental Panel on Climate Change show that GHG emissions must peak by 2025 and be reduced by 43% by 2030 to limit global temperature rise to 1.5°C. Failure may well mean disaster for the planet. Meeting this challenge head-on requires businesses to forge smart partnerships and pursue a comprehensive, data-driven approach to sustainability
Akila's aim is to help all its partners achieve these decarbonization targets. Responsibility is key, and Akila is proud to join SBTi's growing group of global leading corporations spearheading this campaign for net-zero emissions. Akila's powerful real-estate data and digital twin platform have always been designed around ESG and sustainability, its purpose is to empower companies to verifiably reduce energy utilization and carbon emissions and report international standards compliant ESG data. Akila continuously helps its partners design their own ESG visions and roadmaps, with implementation and achievement.