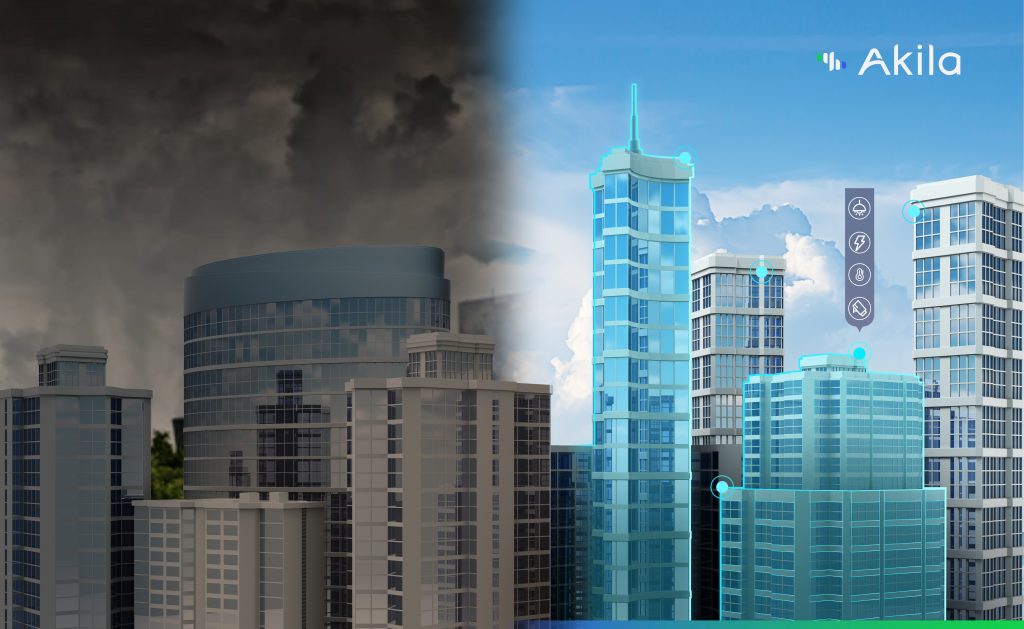 Sustainability, transparency and global net-zero. In recent years, these have moved from buzzwords to core aspects and concerns of business strategy – and for good reason. At a moment when the climate crisis is manifesting worldwide in unprecedented heatwaves, drought and many other devastating natural disasters, it is utterly clear that this crisis requires immediate action, at all levels and with the most ambitious of targets – creating carbon neutral buildings.
As the pressure on businesses to improve their carbon impact mounts from both the private sector and governments, companies are keen to comply by adapting their energy use and optimizing operations. Akila provides the tools for specialists in the built environment to tackle the climate challenges of the 21st century in a way that boosts value, enhances efficiency and reduces emissions to safeguard the future of our planet.
Buildings are one of the biggest global environmental challenges
 It is well past time for property developers, owners and managers to acknowledge its enormous role in today's climate crisis. Buildings, construction and related infrastructure (often referred to collectively as the 'built environment') collectively contribute 40% of all C02 emissions globally. This alarming (and alarmingly underreported) statistic is arrived at when all stages of a building's lifecycle are factored in, starting from initial design into construction, and long-term operations, as well as the material and logistics required across the building's lifespan.
Adding to the pressure is the increasingly rapid urbanization occurring across the world, resulting in:
Greenfield: An ongoing, high volume of construction projects – producing enormous C02 emissions in what remains one of the world's largest but bottom-three least digitalized industries.
Brownfield: An enormous quantity of buildings, the majority of which operate at low efficiency and excess energy consumption, an issue which is poised to accelerate as this building stock ages.
The need for carbon neutral buildings and a comprehensive decarbonization solution, then, is critical, with Asia set to play an especially central role. It is projected that by 2050, roughly 68% of the global population will be living in cities. In China, however, this number will be reached and exceeded by 2030, when a full 70% of its 1.2 billion citizens will have urbanized.
Continued urbanization is inevitable, and so are increasingly strict reporting requirements. But increased carbon emissions are not – as long as we take decisive action now. To achieve this goal, it is critical that companies that are invested in the built environment use a systematic, data-driven approach to the reduction of carbon emissions. By standardizing and compiling all of what were previously disparate data sets in one place with a common digital twin structure, Akila allows clients to carry out cross-functional environmental analytics that was previously either highly cumbersome or impossible altogether, due to the complexity of unstructured data, differing regulations or a multiplicity of other issues.
Akila acts as a single source of truth, opening the path to carbon neutrality
 This is particularly true for ESG-related analysis and tracking, as it is cross-functional by nature, which is why ESG analytics are increasingly relevant and tracked by both private and governmental bodies when analyzing a business's carbon footprint. ESG-enabled tools such as Akila help navigate the incredibly complex task of reducing carbon emissions in systems as they provide a single source of truth for a building, network of buildings, or even an international portfolio of buildings. Akila users can, at any time, see how their built assets are performing and use this reporting to track their progress towards net-zero through step-by-step implementations easily.
The Akila platform supercharges an organization's path towards net-zero by leveraging digital twin and AI technology to monitor key metrics and collate data in one, easily accessible place. This allows clients to make better environmental decisions, improve energy efficiency and optimize renewable energy load balancing by showing exactly where the issues are and providing a clear roadmap to solving them. Regardless of the size of an operation, Akila works at scale and is just as effective in one building as it is when deployed for an international portfolio of assets.
The built environment no doubt presents immense challenges regarding sustainability and the coming climate crisis. But better data, more connectivity and the power of digitalization will go a long way to reducing our collective carbon footprint as the world continues to urbanize and energy demands become more acute. The climate crisis can only be solved by decisive actions, long-term commitments and a systematic, data-driven approach which is collaboration first.